Image resolution values range from 0 to 300 dpi, with 300 being the best. For ease of use, we break image resolution into 5 groups. Not familiar with DPI? Here is a 
complete DPI guide
: 
300:  This is ideal DPI for print. Should print perfectly
250-299: If 300 is perfect, this range is good. Should still be high-quality print. 
200-249: Not everyone has access to professional photos. This range is pretty average quality.
100-199:  May print a little bit pixelated, but often times is OK for basic needs.
0-99:  Consider using a new image if possible. Will likely print pixelated.
We also created a print rating score to better communicate the quality of your image when it goes to print.
Perfect:  300 DPI
Good:  250-299 DPI
Average:  200-249 DPI
Marginal:  100-199 DPI
Poor:  0-99 DPI
Notice: When editing your project very high-resolution images may even seem to be slightly pixelated. This is because we scale images down slightly when editing for performance reasons.
Distance Matters!! The above information means nothing if you don't understand the intended viewing distance of your design. The chart below is meant to help you figure out what DPI score is good enough for you relative to your viewing distance.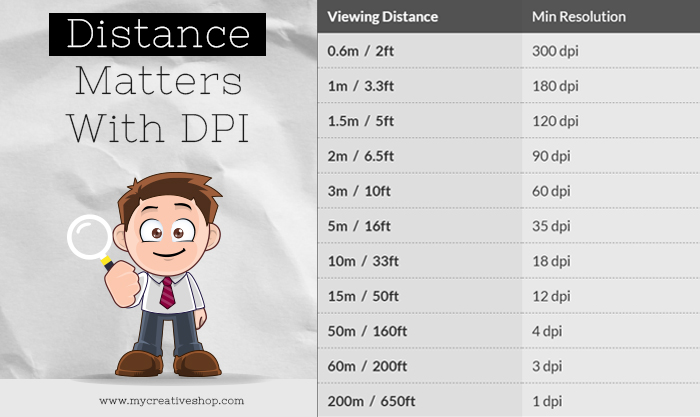 Below is an example of how we offer up these values to you. 
For your convenience, we also include the DPI score on the crop window and we give you that number in real time, so the value changes as you adjust the crop handles or image frame.